Spread the Cricket Fever to Your Finances
Cricket runs in the blood of most Indians. The ICC World Cup is no less than a festival in this country. This year the World Cup is being hosted in India and everyone is elated that we have qualified for the Semi-finals. 
Given our superstitions around cricket, we don't want to pen down our hopes but we sure can learn a few financial lessons from our favorite cricket moves!
No-Ball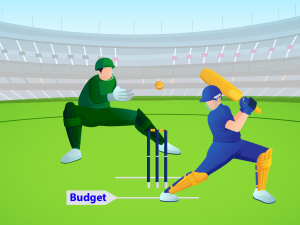 When the bowler crosses the crease while bowling, it is referred to as a No-Ball. The batsman gets a run and also gets a free hit. Imagine the horror the bowler feels when it steps out of line! 
In financial terms, that crease is your budget, and crossing it can bring you face-to-face with the horrors of overspending.
Making a budget and sticking to it is the first step to gaining financial security. There are many ways to curb overspending and utilize your funds wisely.
So next time, before you whip out your wallet or phone to make a payment, watch that line! Or just use moneyview's Money Manager app to help you track your expenses.
Boundary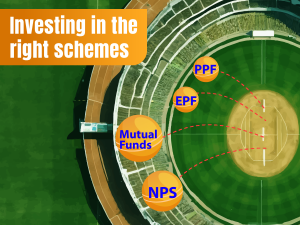 Boundaries are celebrated shots in every match. They show what feat can be achieved with one ball. You can make the best of any opportunity if you put your heart into it.
When you invest in good schemes, you make good use of your money. Your money then compounds and gives you returns that can be used for emergencies or retirement.
There are many government schemes like the National Pension System (NPS), Public Provident Fund (PPF), or the Employee's Provident Fund (EPF) that you can consider. These help you reap tax benefits while keeping funds aside for your retirement.
Even Mutual Funds are a great way to build a fortune if you plan it out properly with the help of a financial planner. A financial planner can help you calculate your risk appetite and invest accordingly. 
FUN FACT: This ICC Cricket World Cup, Rohit Sharma has hit 22 sixes, which is the highest of the Indian team. Rohit Sharma and Virat Kohli hold the record for hitting 50 fours which is the maximum from the Indian team.
Wicket
 
Losing a wicket at any point in the game can be a setback for the batting side. And the worst fact is that you can lose them at any time. Sometimes, losing a wicket at a crucial time can even cost you the game!
Talking about finances, a wicket can mean any financial emergency you are not prepared for. It's not exactly possible to be prepared for all kinds of situations, but having a contingency fund can go a long way.
Start building a fund that is roughly equal to three to six months of your monthly expenses. You can use the amount for medical emergencies, as well as any hard time that you have to face. This will protect you from losing a wicket at an important crossroad of life!
FUN FACT: This ICC Cricket World Cup, Mohammad Shami has taken 16 wickets to become India's highest wicket-taker in the ODI World Cup.
Free Hit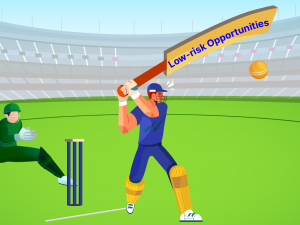 After the bowler bowls a No-Ball, the next hit is a Free Hit, where the batsman cannot be dismissed by any methods other than those applicable for a No-Ball. While a No-Ball can be a nightmare for the bowling team, the Free Hit is a boon for the batsman.
Life gives you such Free Hits sometimes, and you should make use of the low-risk opportunity handed to you. One such chance you get is to hike your salary when you switch jobs. You can ask for what you deserve and if it works out in your favor, you will hit a six on a Free Hit!
In case your negotiations don't go as planned, you will still get a hike, and there is no chance of losing anything. But remember, all No-Balls in life won't be followed by Free Hits. 
Take a look at these highest-paying jobs for inspiration. Keep a look out for opportunities and open the door when they come knocking!
Power Play
 
For power play, the outer ring has only two fielders and the batsman can hit as many boundaries as they want. This gives an advantage to the batting team.
In financial terms, this can be equated to investing from a young age when you have a higher risk appetite. It gives you an edge and lets you save more all the while getting higher returns. You can invest in stocks or mutual funds that are more profitable and get a head start on your retirement fund.
Conclusion
No matter what the outcome of the ICC Cricket World Cup 2023 is for the Indian team, these financial lessons can help you win your money game! To summarize it all, try to keep your spending within your budget, and hit as many boundaries as you can. Make use of the Free Hits you get in life and don't lose your wickets. 
The cricket fever has obviously got you, just let it spread to your finances and manage them according to your favorite cricket moves!
What do you think about this blog? Let us know in the comments!
And in case you have lost a wicket and don't have a Power Play in sight, you can always opt for a Free Hit in the form of an instant personal loan from moneyview. Here, you can get loans from Rs.5,000 to Rs.10 Lakh, depending on your requirements and your eligibility.
To know more, visit our website or download the moneyview app!