They Say Love is Costly, Don't Let Your Wedding Be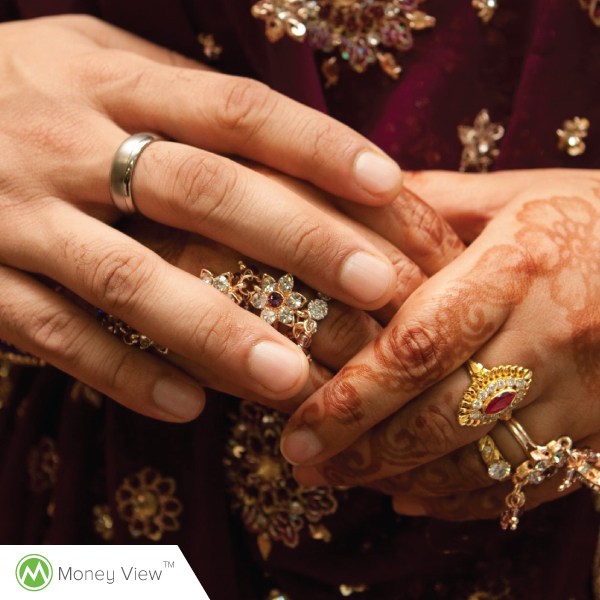 The first thing that I do every month on receiving my salary is pay off the loans and bills. I took a personal loan years ago, to finance my wedding. And I'm paying for it with interest till date. The first thought of a parent when they give birth to a daughter is the expense for her wedding. Even though that moment would be decades away, the thought will still strike. We cannot blame them. Indian society is known for its big fat wedding which is mainly to display the wealth of a family rather than celebrate the union of two souls. Mine was one such wedding too. By the end of it, my husband, my family, his family and I were all squeezed of our savings and had piled on debt in the bargain. As I pay off instalments of this loan month after month, I realize how unnecessary this was. I could have instead got married in a much simpler way and saved our families from all this financial trouble.
Marriage is a beautiful union of two souls and only that should be celebrated. The pomp and glory should not be allowed to steal the thunder from the couple. Falling in love is a wonderful feeling, let it not be expensive. Here are a few tips and tricks that will help you plan your wedding well without burning a hole in your pocket.
Budget
Set a well-defined budget based on your savings and income. As much as possible try not to incur debts in terms of a loan or credit card debt. If you must, then take a loan with the shortest duration possible, so that you can finish it off soon and save on interest.
Venue
Nothing beats the wedding expense like a simple registered wedding. But if you want to host guests and celebrate then look for a venue that you are comfortable with. Since most of these places charge per day, try to finish the celebrations within a day instead of stretching it for two or three days. Some people have the wedding on one day and the reception the next day. You can save the amount of a whole day's rent if you have the wedding in the morning and the reception in the evening instead.
Dates
We Indians are suckers for tradition and auspicious dates. But some venues charge more if you are booking it for the weekend or during a public/national holiday. Weekdays are charged much lesser. So you can save some money by tweaking your dates.
Decoration
At times the decorations for weddings cost more than the venue itself. The organizers trick you with photographs and talk a lot about lights, flowers and effects. You can save a lot of money by having a simple décor for the wedding and adding on to it for reception instead of fully discarding it and getting a new one. Also the fancy lace covers for the seats of the guests are really expensive and even though they look good in the photographs they do not matter much.
Wedding attires
Let's make it clear, what you wear for your wedding you will never wear it again. Especially the bride. Men's wear can we worn again and again, but a bride's clothes will hardly be ever re-used. Do not invest much on them. Buy colours and fabrics that look good in photographs and something that you are comfortable in. You would be tempted to buy the costliest saree on your wedding, but remember that it will be a dead investment.
Jewellery
If you have the budget, it is better to invest in jewellery than in clothes or venue decoration as it will always have a resale value. But instead of running into huge debts buying them, opt for artificial jewellery instead. This will just cost a fraction of the budget. Also, there are many places where you get to rent artificial jewellery. It after all is only for a day and they look just as good.
Guest list
Most of the weddings will have guests whom the bride and groom hardly know. As I said before some people would want to invite the entire world to show off their status, but more the number of people, more the expense. Invite only the close family and people who matter to you the most. Society's tongue will always wag, but it is better to ignore them than to pile on debt.
Food
Quality of the food is more important than quanity of the food. Make sure your menu has only a few items that are very good instead of a lot of mediocre ones. Avoid unnessary expenses like live counters. They crowd very often and create chaos.
Photographers
These days they cost the most as photography has had a rebirth in recent times thanks to candid photography. Instead of hiring a professional for a bomb, ask a friend with a DSLR to do the job. More often than not, the trick lies in the editing which can be done using a number of tools available online.
Invites
Keep the wedding invites simple and personal. There is no need to go in for an extravagant card or book invite. A simple personalized card conveys the message much better and doesn't exhaust your budget. Online invites are making a big buzz these days. They look great and are easy to set up with zero investment. Plus it will save you travelling time and money that goes in distributing the cards.
The idea is to have a day that you will look back at with a smile. You do not want to look back at the most important day of your life and see a mountain of debt.
Have a simple wedding and take a grand honeymoon with the money instead. At least here, you will be creating memories.
Soumya Prasad is a techie during day and a passionate writer by night. A fashion addict and a closet baker, apart from writing she spends her free time travelling and baking yummy cakes for her foodie husband. Rhymed poetry gives her satisfaction and she is looking forward to publish her own novel someday.