Dussehra 2023: A Financial Lesson for Each Day of the Festivity – Part 2
Welcome to Part II of our blog which covers the last 5 days of the festivities. To read the lessons of the first five days, you can read the first part of the blog.
Let's quickly dive into the remaining financial lessons so you can start working on them!
Day 6: Balance The Risk on Your Investments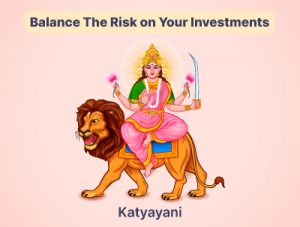 The sixth day of the Navratri is dedicated to Goddess Katyayani. She teaches us to respect nature and how tampering with it can cause ruin.
What you can learn from her in terms of finances is to have a balance between your high-risk and low-risk investments. While high-risk investments give high returns, you might also end up incurring huge losses. On the other hand, low-risk investments give low but sure-shot returns.
Thus it is important to have both types of investments, though the decision of where to invest how much money will depend on your goals, age, and income. 
Day 7: Let Go of Greed

The seventh day is for the Devi called Kaalratri, whose main lesson is to replace negative emotions like greed with positive emotions like sharing.
Note that you can often end up in financial traps because of greed. Investing all your money in high-risk investments, and putting your money in schemes that promise unbelievable returns are forms of greed that need to be taken care of. 
When you let go of that, you can enjoy whatever you have and also share it with your near and dear ones. No matter how much funds you possess, you can get the most out of it by managing it properly.
Day 8: Stay Calm in the Face of Financial Adversities

The eighth day is the most important day of the festivities and is dedicated to the goddess Mahagauri. She teaches us the value of being confident, calm, and cheerful in life.
In the context of your finances, staying calm during times of financial distress can help you get out of it sooner. If you spend time worrying and stressing, you will have more difficulty in mapping a way out.
A lot more can be achieved by keeping your peace and planning your finances meticulously. That way you will also feel confident in yourself which will in turn help you maneuver your way out of a tight situation.
Day 9: Learn More About Managing Money

The ninth and final day of Navratri is dedicated to Siddhidatri, who is known for being knowledgeable and skillful. She teaches that you should always upgrade yourself by learning new skills, habits, and strategies.
The same holds true for managing money. The more you know about it, the better it is for you. So, spend time learning about investment schemes, budgeting ideas, etc.
When you read more about it, you get to know expert opinions and also learn from others' mistakes. That way you can always be one step ahead.
Day 10: Take Control of Your Finances!

The tenth day of the festivity is Dussehra or Dashami and is celebrated as the victory of good over evil. 
Finances can be a burden and source of stress if not managed smartly. It might look scary but it is pretty simple to manage once you get the hang of it.
The lesson you can take from the final day of the festivities is to cumulatively take action on all nine lessons. With the tools at your disposal, you can act accordingly and save funds for your future without breaking a sweat. 
In Conclusion
Dussehra is a 10-day-long festival that celebrates the victory of good over evil. There are a lot of things that can be learned from such a traditionally rich and diverse occasion. 
If money management or finances stress you out, this can be a good time to take a look at your spending habits and general expenses. You can take control of your finances by following simple rules like setting long and short-term goals and cutting on unnecessary expenses. 
All this aside, rest assured, if you ever have an emergency and are in need of urgent funds, moneyview is there for you! You can get loans from Rs.5,000 to Rs.10 Lakh with minimal documentation. 
We are also running a special festive offer that can reduce your worries even more! You can get 50% off on the processing fee for loans applied during this time if you use the code MDDF50. To know more, visit our website or download our app.