All You Need to Know About Payments Banks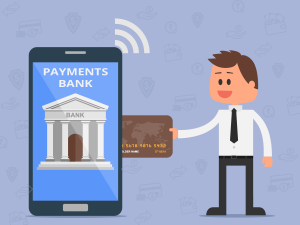 Financial inclusion has been on the agenda of the Govt. since some time now and the intent was clear with the launch of Jan Dhan Yojana. Further, to reach the unbanked population, the finance minister, Arun Jaitley, had announced in his budget speech presented during the Union Budget 2014-2015 that a framework shall be created for licensing small banks and other differentiated banks. One of such differentiated bank category that emerged out of this exercise was payments banks.
What is a Payments Bank?
Payment Banks is a differentiated category of banks aimed at reaching the unbanked areas and expand the agenda of financial inclusion. Payments banks are allowed to accept savings and current deposits from the customers but the balance in their accounts cannot exceed Rs. 1 lakh at any point in time. Besides this, they cannot accept term deposits (FDs) from the customers. Similarly, they cannot issue credit cards or grant loans to their customers. However, to enable their customers to access their funds, such banks can issue ATM/ debit cards.
Need for Payments Banks
The objective of setting up of payments banks has been to further financial inclusion by providing
(i) small savings accounts and
(ii) payments/remittance services to migrant labour workforce, low-income households, small businesses, other unorganized sector entities and other users.
Business Model of Payments Banks
Payments Banks will offer payments and remittance services through various channels and can also distribute non-risk sharing financial products like mutual funds, insurance policies etc. The revenue model of such banks will comprise of the transaction charges they may charge from their customers.  Similarly, the customers will benefit from the extended reach of such payments banks. They reach out to more customers though mobile phones instead of conventional bank branches.
Are Your Funds Safe with Payments Banks?
Payments banks will also be regulated by Reserve Bank of India (RBI) and subject to regulatory guidelines. The minimum equity for them has been stipulated at Rs. 100 crores. Besides this, such banks will be required to invest minimum 75 per cent of its "demand deposit balances" in Statutory Liquidity Ratio (SLR) eligible Government securities/treasury bills with maturity up to one year, as such the liquidity issues cannot be expected to arise with such banks. The banks can hold a maximum of 25 per cent in current and time/fixed deposits with other scheduled commercial banks for operational purposes and liquidity management. Also, the regulator has been quite strict in evaluating and awarding the license to only eligible and fit promoters and as such, there seems no issue in relying upon such banks for your hard earned money.
Offerings by the Payment Banks Launched So far
The Reserve Bank of India (RBI) had granted Payments Bank license to 11 entities and as on date, 4 entities have already launched Payments Banks. Let's now discuss the offerings being made by these entities. Airtel Payments Bank Ltd. was the first Payments Bank to start its operations, followed by India Post Payments Bank Ltd (IPPB) and PayTM Payments Bank Ltd. Fino Payments Bank Ltd. is the most recent payments bank to become operational and was launched in July 2017.
Airtel Payments Bank has taken advantage of its mobile service outlets to reach to the public. The bank offers 7.25% interest on your bank balance and also offers free personal accident insurance worth Rs. 1 Lakh for its customers. While there are no charges to add the balance in your account, it will charge 0.65% of the amount in case you need to withdraw amount across the banking points. Similarly, the charges to transfer funds from Airtel Payments bank to another bank through IMPS are 0.50% of the amount. There are no ATM/ debit card offerings by Airtel Payments bank as yet.
India Post Payments Bank Ltd. (IPPB) is also set to take advantage of its reach through the postal network. It is offering 5.50% interest on your money and has tied up with Punjab National Bank (PNB) to offer ATM cards and services. There are no charges presently to withdraw from ATMs of IPPB and PNB and for other ATMs, standard charges are applicable. The bank is charging nominal charges for transfers through NEFT/ IMPS and also offering transfers through Aadhaar Enabled Payments System (AEPS) free of cost.
PayTM Payments Bank (PPB) claims to be India's first bank with zero fees on online transactions, no minimum balance and free virtual debit card. Besides this, physical services like a chequebook, demand draft and debit card will be available for a nominal fee, benchmarked to the industry. While the bank is offering 4% interest on its account balances, the account opening feature is presently available only via invitation.
The newest kid on the block, Fino Payments Bank Ltd. (FPB) has partnered with two of its flagship investors, ICICI Bank and Bharat Petroleum Corporation Ltd. (BPCL) to provide third party products. Offering 4% of the account balances, the payments bank has already started to offer ATM services through ICICI Bank network and also selling insurance policies by ICICI Prudential Life Insurance and Exide Life Insurance. It is offering two free transactions every month for deposit or withdrawal through its physical touch points and the charges of Rs. 5 per Rs. 1,000 (0.50%) will be applicable from the third transaction onwards.
By viewing Payments Banks as a source of digital innovation in Indian banking to extend the financial inclusion agenda in the country, much progress can be made in accelerating financial access and usage for the previously unbanked population.