Confused Between Renting or Buying? Here are Some Tips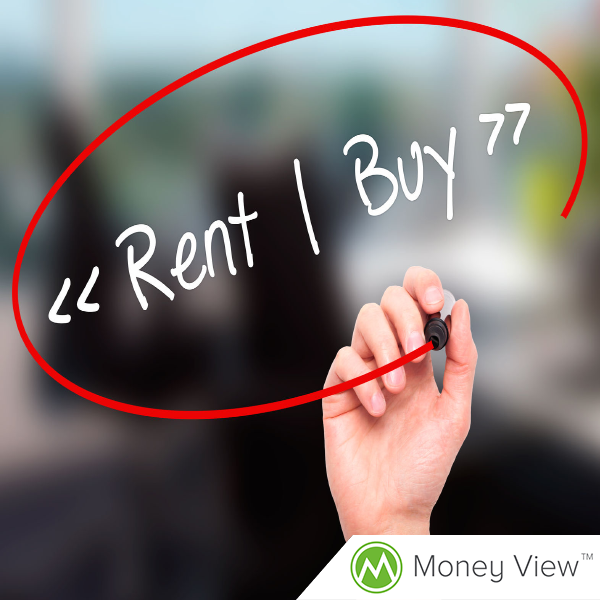 Rent or buy – this debate has existed in people's minds since ages. Is buying a car better than renting it? Should I rent a house or buy it? QZ magazine set wings fluttering when it stated that renting a home in India makes more sense. Numerous investment-savvy communities discussed the topic.
On paper, QZ's argument is valid. But reality is different. In real life, we deal with people and policies, both of which can change over time – something that numbers cannot account for. This post is to discuss the pros and cons of renting versus owning a home, furniture and a car.
'Home' here means a place where you stay, not one which is for rent or investment. According to QZ (and many people agreed with the view), renting a ₹1.5 crore apartment in Mumbai is cheaper than buying it for many reasons. First, the monthly rent comes to around ₹20,000. Over a year, ₹2.4 lakhs is cheaper than the EMI. Second, the hassle of paying an EMI to the bank is avoided. Third, you don't need to worry about delayed possession.
Now let's talk about buying a home. Most people want a home in their own name today, right? The most essential factor in our lives (makaan) belongs to us. Plus, you receive tax benefits even if you rent the property out. Ashal Jauhari explains the concept of saving tax by getting a home loan beautifully in this video.
However, keep one thing in mind: look for completed projects. Builders offer lucrative 20:80 schemes (pay 20% now and 80% on completion of the project). But the money is stuck until the project is completed. Often, builders divert this fund to other delayed projects, which means that your dream home is on road to being delayed too. Plus, if you take a loan to pay off this 20 percent, you pay EMIs and interest on that. So look only for completed projects.
 Renting versus buying furniture
Startups like Furlenco offer furniture on rent. But this concept hasn't caught up in India yet. The biggest advantage of renting furniture is that you can get a fully furnished apartment within two days. You can get good furniture for your home even if you have less money upfront, because the cost of renting that furniture is lesser than its outright price. This is also useful if you won't reside in a house for long and will move soon. If you are in a house for a year before moving to your own, or a rented house before you have to move to another location, this is a viable option. Also if you like changing your home décor once every few years, this works out to be a cheaper option.
But if people don't stay for a short duration at a destination, they prefer buying furniture. Some are driven by the logic that if the furniture was good, it wouldn't be rented. Just like we prefer owning our home, we prefer owning furniture. "Given a choice, would you eat in a plate exclusively yours, or one which others have eaten in?" my friend asked. "Similarly, I would rather own my furniture rather than sleep on a bed or sit on a sofa used by others." Also, if you have to stay in rented property, you can look for a semi-furnished or fully furnished home. The rent might add up to the same amount as the total of an unfurnished apartment and rented furniture. Online versions of garage sales like OLX and Quikr are also good avenues to purchase furniture if you are on a shoestring budget.
Whether you decide to own furniture or rent it, look at your convenience, not at what others think.
Renting versus buying cars
Consider this. You travel from point A to point B and back within your city. In the first instance, since you're not comfortable driving, you hire a driver. The driver charges close to ₹1,000. In the second instance, you hire an Uber. The journey both ways costs you around 950 bucks. So the difference isn't much, right? But wait. Did you consider the price of fuel, that could vary between 600 – 1,000 Rupees? Now the scale tilts in the taxi's favour, doesn't it? Plus, even if you drive, taking an Uber is easier. You don't spend on fuel, and don't bear the headache of driving on congested roads – you're relaxed. You also don't suffer parking woes. So my suggestion is simple. If you are financially well placed, purchase a car. After all, regardless of the social media statuses we share about shattering gender biases, we will still judge a person's earning based on whether he has his own house and car. But until then, it's okay to travel by cab. The spending is less. And the peace of mind is more.
Rent or buy, choose the option prudently based upon your budget and needs.
Vishal is the founder of Aryatra, a venture to help individuals improve their productivity and live more fulfilled lives. He also is a digital marketing consultant helping businesses generate revenue from their online presence.