Need Hassle-Free Loans? This User Knows How to Get One!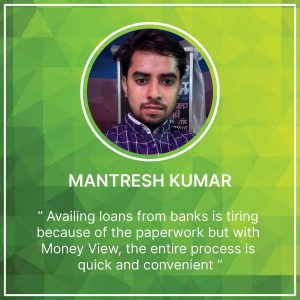 As we enter the third month in the year, we have already spoken to multiple customers. The more we speak to you, our esteemed users, the more we'll fine-tune our product and services. Are you wondering what feedback we have received recently?
Check out an excerpt from one of our recent conversations below –
Tell us something about yourself
My name is Mantresh Kumar and I am a working professional from Bihar.
What kind of loan did you avail from Money View?
I had availed a personal loan from Money View to fund my education.
Why did you apply for a loan from Money View and not other banks or financial institutions?
It is true that there are many options and I had applied for a loan from banks as well but the process was time-consuming and cumbersome. Apart from that, there was a lot of paperwork required which was highly inconvenient.  
When I heard that Money View loans could be availed through a paperless application process, I decided to try and apply for a loan from them instead and got a loan within just a few hours.
How did you get to know about Money View loans?
I found out about Money View loans through social media.
What did you think of the Money View Loans app and the application process? Are there any particular features that you enjoyed?
I was looking for a lender who could provide me with a loan easily. I was tired of the exhaustive processes that most banks put us through before disbursing a loan. This is where Money View is a game changer in my opinion. 
Not only is the application process quick and easy, the loan was disbursed within a few hours. I was slightly apprehensive about sharing my personal information but I was reassured that Money View has the most stringent security protocols in place and that my information would always remain confidential.
Thanks to Money View, I do not have to worry about submitting an unnecessary number of documents, traveling back and forth, or even waiting too long to receive my loan.
Final Thoughts
I genuinely enjoyed how convenient it was to get a loan from Money View. I already have and will continue to recommend Money View to everyone looking for personal loans.
Thank you Sir,  for your kind words. Money View wishes you and your family the very best. If you are looking for an instant personal loan, visit the Money View website or  download the app & apply today.