The Easiest Personal Loan to Avail? Read our Customer's Testimonial on this!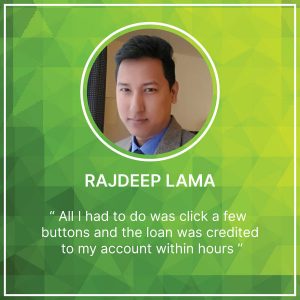 Customer satisfaction is our greatest measure of success and a majority of our efforts are undertaken to ensure this. Whether it is with respect to ease of application, minimal documentation requirements or instant loan disbursement, we try to improve every step of our process.
Last year, every single customer we spoke to said that they would recommend us to others. We hope to maintain our track record this year too.
But how do we find out what we can improve upon?
By talking to our customers regularly, taking feedback, and finding ways to improve. Recently, we had the pleasure of speaking to a customer from Pune, Rajdeep Lama. 
Here are some excerpts from the interview.
Tell us something about yourself
My name is Rajdeep Lama and I reside in Pune where I work for an MNC
What kind of a loan did you avail from Money View?
I had taken a personal loan from Money View for the construction of a new home.
Why did you apply for a loan from Money View and not other banks or financial institutions?
Availing a loan from the Money View app was a hassle-free process. It was just a matter of clicking a few buttons and the amount was credited to my bank account within a few hours.
It was much easier to avail a loan from Money View than reputed banks. The entire application process was convenient and quicker than I had expected. Plus I did not have to visit a bank or meet with representatives.
How did you get to know about Money View loans?
I found out about Money View through social media.
What did you think of the Money View Loans app and the application process? Are there any particular features that you enjoyed?
I could track my application process from start to finish in real time. This was something I appreciated because sometimes after applying for a loan the lending company may not respond or there may be other issues. But being able to track my loan application was helpful and I knew what to expect.
Apart from this, most banks take about 2-3 days to disburse a loan but with Money View, I received my loan within the day. This is great if someone needs a loan urgently. Even the documentation requirements are minimal which is convenient.
Final Thoughts
I would definitely recommend the Money View loans app to everyone looking for personal loans because of how hassle-free and convenient the app is to use.
Thank you Sir,  for your kind words. Money View wishes you and your family the very best.