Mortgage Loan Vs. Home Loan
Home loan and mortgage loan are both secured loans which are usually required either to buy or construct properties.
So what exactly is the difference between home loans and mortgage loans? This article will talk all about it.
We understand that secured loans are a type of loan where the lender accepts collateral against the borrowed amount so that if a borrower fails to repay the loan, then the lender can retrieve the loan amount with the help of the collateral. But just because both home loans and mortgage loans are secured loans, they are not the same.
Now, before understanding the difference between a home loan and a mortgage loan, it is important you know what each of these loans are and how they function.
Mortgage Loan Vs. Home Loan
While both these loans seem similar at first glance, here are some of the main differences between home loans and mortgage loans.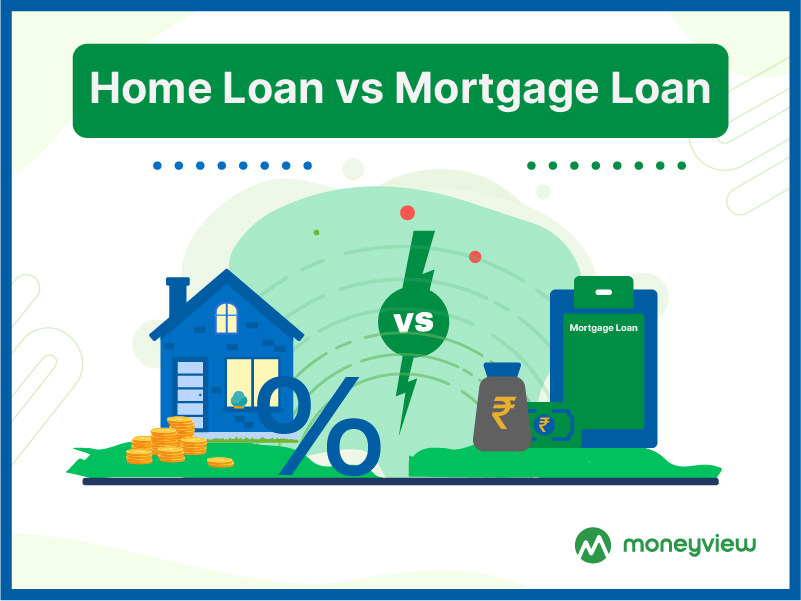 What is Home Loan?
A home loan is a loan that is availed from a bank or NBFC to either buy/ construct a house or renovate an existing property.
The loan tenure is usually for a long period of time and ranges from 15 years to 30 years and the interest rate usually starts at around 7% per month.
There is a provision for choosing either floating or fixed rate of interest on the principal amount. In a fixed rate home loan, the interest amount on the principal amount remains the same throughout the entire tenure.
But, in a floating or variable rate home loan, the rate of interest fluctuates based on the market condition over the repayment duration.
What is a Mortgage Loan?
A mortgage loan is also a type of secured loan where an applicant borrows a particular amount of money by mortgaging property.
In this case, the property against which the loan amount is approved is the collateral.
Mortgage loans are also known as loans against property because loans are provided against a property which could be either a residential property or commercial or other immovable properties like land, gold, heavy machinery, shop, etc.
In a loan against property, the lender remains as the actual owner, until the borrower pays off the loan completely.
What is the Difference Between Reverse Mortgage and Home Equity Loan?
A reverse mortgage is a type of loan where the homeowner borrows against the value of his/her home and receives a lump sum amount either as fixed credit or line of credit.
Here the homeowner does not have to make any loan payments. A reverse mortgage is ideal for senior citizens who have a self-acquired or self-occupied home in India. They can avail this loan to support themselves, if they don't have adequate income to support themselves.
The lender will make payments to the borrower against the mortgage of his / her residential house.
On the other hand, a home equity loan is a type of consumer debt that allows a homeowner to borrow against the equity in his/her residence.
The approved loan amount is determined based on the difference between a home's current market value and mortgage balance due. Here the equity in the home serves as collateral for the banking institution and comes with a set repayment schedule.
Thus, the major difference between a reverse mortgage and home equity loan is that in the former, you don't have to make repayment. But, in the case of a home equity loan, you need to repay the loan amount to the bank.
In Conclusion
Buying a property is a dream for many and even if they are unable to raise the funds required on their own, they can always avail a home loan for the same. While both home loans and mortgage loans are secured loans, there are differences such as the purpose for which each of these loans are used, the interest rate, etc.
Choose what works for you based on your requirements and income. However, if you wish to avail a smaller loan amount instantly without having to provide collateral, Money View personal loans are the best option for you. Click here to know more and apply today.
Mortgage Loan vs Home Loan - Related FAQs
Both salaried and self-employed individuals can apply for home loan and mortgage loan as long as they fit the lender's eligibility criteria.
A mortgage broker is someone who can help you find out the best deal for your home loan or loan against property. He/she will also help you with the whole process starting from choosing a loan to applying for the same and finally getting it approved with the right documentation.
Mortgage brokers usually have access to thousands of lenders and they can actually help you get exclusive deals. You can avail the following benefits by appointing a mortgage broker:
Access to hundreds of loan products

Find the most exclusive deal as per your requirement

Get personalized service at your doorstep.

Save time as all formalities will be done by your broker

No hidden cost involved as he/she will be explaining all details minutely

Greater flexibility and convenience as the brokers will meet you at your convenience
But when you approach a bank for home loan or any other loans, you may face the following disadvantages:
Spend a lot of time by doing research to choose the right product suitable for you

You need to visit the branch physically and end up spending time

The entire process will have to be done by you which could result in mistakes

There are chances of your home loan application being rejected in case you don't fit in their lending criteria

You may not get the competitive rate on your mortgage loan
However, the final decision will rest with you.