Loan Against Fixed Deposit
If you are looking for a secured loan that you can avail quickly, the best option is a loan against FD or loan against fixed deposit.
What is a Loan Against Fixed Deposit (FD)?
A fixed deposit or FD is a popular avenue for saving and investing due to the risk-free nature of the investment. But did you know that an FD can work as security against which you can draw a loan?
To avail a loan against a fixed deposit, you will need to pledge the FD with the bank/financial institution and get the loan against the safety of the deposit
Who is Eligible for a Loan Against FD?
Any person who has a fixed deposit either individually or through a joint account can get a loan against the FD in question. However, the only categories of fixed deposits that cannot be used as security are -
Fixed Deposits in the name of a minor

5 yr Tax Saver Fixed Deposits
How to Get a Loan Against FD?
The procedure to avail a loan against FD is very simple as given below -
All you need to do is approach the bank where you have a fixed deposit and ask for a loan against the same

The fixed deposit will be pledged with the bank for the duration of the loan. The good news is that the deposit will continue to earn the same rate of interest as before

This loan will be allowed as a one-time withdrawal or through an overdraft facility.
Percentage of Loan that Can be Availed Against the FD
When it comes to a loan against FD, the amount is linked to the value of the FD.
In most cases, up to 90% of the deposit amount is allowed as a loan. For example, iIf your FD is worth Rs. 1,00,000, your loan will be approved for Rs 90,000.
However, this will also depend on other factors such as your relationship with the lender. The loan amount is determined at the sole discretion of the lender.
Loan Against FD Interest Rates
The interest on these loans is calculated at 1-2% above the FD Interest rate. Suppose the interest rate on your FD is 7.5%, the interest rate on the loan would be in the range of 8.5-9.5%
However, as mentioned previously, the loan amount and the interest charged are determined at the sole discretion of the lender.
Top Banks that offer Loans Against FD & their Interest Rates
Most banks offer loans against fixed deposits. Let's explore the interest rates and other terms and conditions offered by some of the popular banks -
| | | | | |
| --- | --- | --- | --- | --- |
| Bank Name | Minimum FD Amount | Interest Charged | % of FD allowed as loan | Available as |
| Axis Bank | Rs 25,000 | 2% above FD rate | 85% | Overdraft Facility |
| SBI | Rs 25,000 | 1% above FD interest rate | 85% | Overdraft Facility or Demand Loan |
| HDFC Bank | Rs 25,000 | 2% above FD rate | 90% | Overdraft Facility |
| ICICI Bank | NA | NA | 90% | Demand Loan or Overdraft Facility |
| Yes Bank | Rs 10,000 | 1% above FD rate | 90% | Overdraft Facility |
| Punjab National Bank | N/A | Subject to Repo Linked Lending Rate | 80%-95% depending upon the tenure of the loan | Overdraft Facility |
Benefits of Loan Against FD
There are many benefits of availing a loan against fixed deposit. The most important ones being -
Interest rates are lower than those on personal loans

Approved even for applicants with low or no credit score

No need to liquidate the investment to meet financial obligations

Quick disbursal of loan

Easier to repay

Can be easily availed by senior citizens as well

Loan can be repaid and closed any time as there is no prepayment penalty

Most banks do not charge processing fees for this loan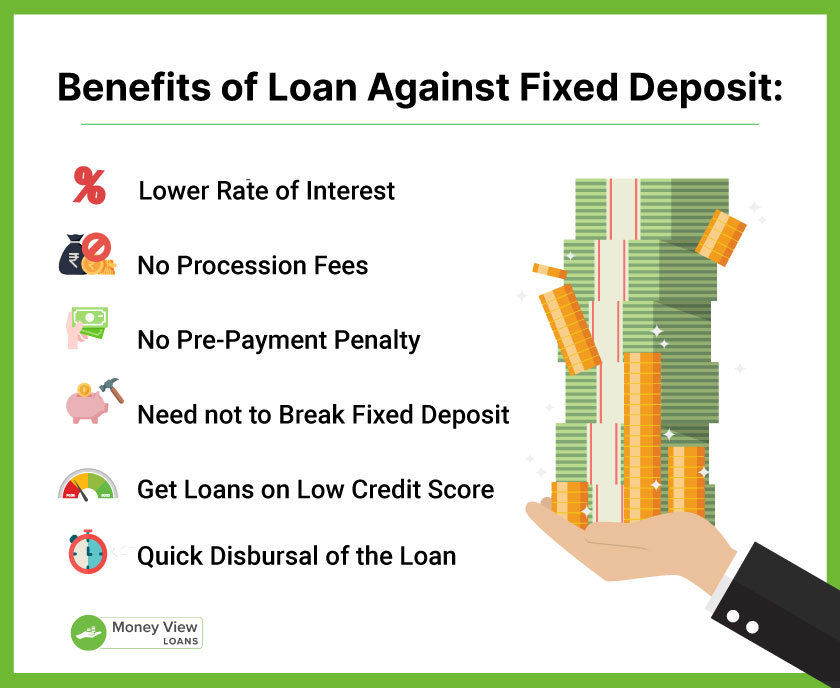 Disadvantages of Loan Against FD
While there are a number of benefits offered, here are some loan against FD disadvantages -
The loan amount will be determined and limited by the amount in your FD

The loan term cannot be greater than the term of the FD

In case you are unable to repay, the bank can foreclose the FD to recover the loan amount

Defaulting on the loan against FD can impact your credit score as well
In Conclusion
Financial emergencies can strike at any time and in such cases, availing a loan is a great idea. If you have an FD then a loan can be availed against the same. Since this is a secured loan, the interest rates will be lower and you can get the loan easily as well.
However, if this option does not work and you need a loan urgently, why not avail a personal loan from Money View? One of the top lenders in the market today, Money View provides advantageous loans that are disbursed in 24 hours of application approval. There is no need for collateral as well.
Visit the Money View website or download the loan app to apply today.
Contact Us
Do you require more information on personal loans from Money View or are looking for assistance in applying to a personal loan, write to us at loans@moneyview.in or call us at 080 45692002.