How to Link Voter ID with Aadhaar Card
To curb electoral fraud, the Indian Government introduced the system of linking an individual's Aadhaar number with their Voter ID card (also known as the Elector's Photo Identity Card or EPIC) and this process is known as seeding.
Is It Mandatory to Link an Aadhaar Card with a Voter Card?
Linking Aadhaar with Voter ID is not yet mandatory.
However, to ensure a fraud-free electoral process, you can link Aadhaar with Voter ID. If you want to know how to link Voter ID with Aadhaar, please continue reading.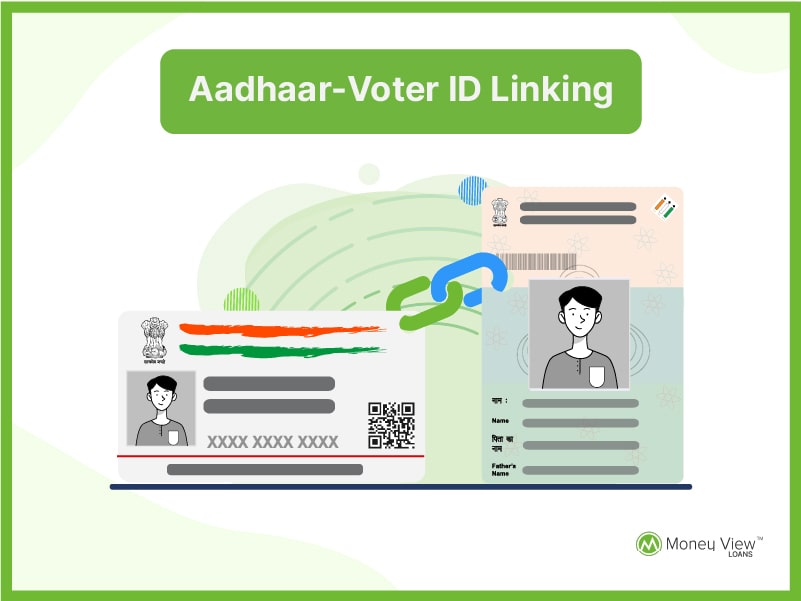 How to Link Aadhaar with Voter ID
In order to complete Aadhaar-Voter ID link, you will first need to have the following documents -
Your Voter ID card number

Aadhaar Card

Registered mobile number/ Email ID
Now, you can start the linking process. There are several ways through which you can easily link your Aadhaar with your Voter ID as mentioned below -
Link Your Aadhaar-Voter ID Online Through NVSP

Link Your Aadhaar Voter ID via SMS

Link Your Aadhaar Voter ID through your Mobile

Link Your Aadhaar-Voter ID Through Booth-level Officers
Link Your Aadhaar-Voter ID Online Through NVSP
You can link Aadhaar with Voter ID online on NVSP (National Voter Service Portal). Once you are on the portal, follow the steps given below:
You will have to start by clicking 'Search in Electoral Roll'. You will be taken to another page wherein you will have to provide the required details such as Name, D.O.B, State, etc.

Then, click on the 'Search' button.

If the information which you entered matches the information in the Election Commission's database, your details will be displayed.

Once your details appear, click on the option 'Feed Aadhaar No.' You can locate this option on the left-hand side of the interface.

After clicking on that option, a pop-up window will appear. You will now have to fill in details such as your name as per your Aadhaar card, your Aadhaar number, registered email ID or mobile number, and your Voter ID number.

Once you have entered every detail, click on the 'Submit' button.

You will now receive a message notifying you that your application to link your Aadhaar number to your Voter ID has been successful.
Link Your Aadhaar Voter ID via SMS
You can even link your Aadhaar number with your EPIC number through SMS. All you need to do is type an SMS in the format shown below and then send it to 51969 or 166.
ECILINKEPIC Number< SPACE>Aadhaar Number
For example, if your EPIC number AB123456789 and your Aadhaar Number is 0987654321, you will have to type ECILINK AB123456789 0987654321.
Once done, a notification will be sent to you to your phone number.