Pan Aadhaar Linking
Certain services, including filing your income tax returns, now require you to link your PAN card to Aadhaar. According to a recent statement from the government, the deadline to link a PAN to an Aadhaar number is March 31, 2023. Previously, the deadline was March 31, 2022.
The person who fails to link the PAN card with the Aadhaar card must pay a penalty of Rs. 500 in the first three months (i.e. till June 30, 2022) and Rs. 1000 after that (i.e. from July 01, 2022 till March 31, 2023).
If you have already linked your PAN card to an Aadhaar card, you may quickly verify the status of your PAN Aadhaar link either online or offline. The e-Filing portal of the Income Tax Department makes it simple to link your Aadhaar card to your PAN card and check the status.
Why is it Important to Complete the PAN Aadhaar Link?
Listed below are the reasons why you should treat this on priority and link your PAN with Aadhaar as early as possible, if not done yet –
It's mandatory to link Aadhaar with PAN to file Income tax return (ITR).

To apply for a new PAN

To avail subsidies and social security benefit from central and state governments
How to Link a PAN Card with an Aadhaar Card?
The Indian government has been campaigning for months to make citizens aware of the necessity of linking one's PAN card with their Aadhaar card. The current deadline to link your PAN card to your Aadhaar Card is March 2023 but this comes with a fine.
The PAN card is a unique tax ID number issued by the Government of India, and the Aadhaar Card is a citizen's proof of identification, residence, and age. So, how does linking the two make sense?
Aadhar Card number

PAN Card number

Date of Birth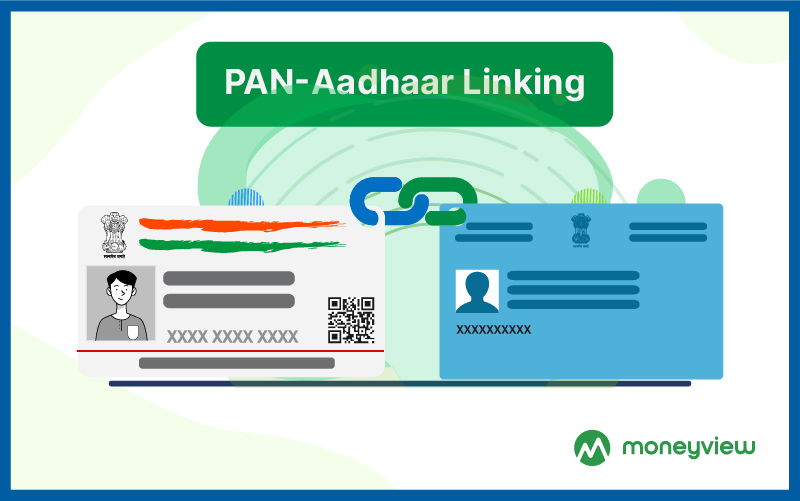 Benefits associated with using a PAN card
Your PAN card is vital for any form of taxation and your daily transactions. It helps the government keep track of your money to regulate taxes. Listed below are some particular benefits of a PAN card.
Necessary to start a business or enterprise
Any business currently running in the country must have a tax registration number or TRN for filing tax returns and conducting trade. To obtain a TRN, you need to have a PAN card; thus, it becomes essential for opening a business or enterprise.
Income Tax filings and tax deductions
A PAN card is an absolute necessity to file your income tax returns. It also helps save a lot of taxes just by getting your bank account linked with the PAN card in the form of TDS.
A PAN card is essential while opening a Demat or Bank account
Unless you open a zero balance account, you must get your PAN card linked to your bank account. You will also need a PAN card to access a Demat account, which will help you invest in Mutual funds and equity.
Undertaking any sort of transactions from your bank account
Without a PAN card, you will not be allowed to move your funds in any format. This makes a PAN card an absolute necessity.
The PAN card helps the government track your financial transactions and levy taxes on them when required. It also helps develop the macroeconomics data that is vital for the growth of any economy.
Why should I link my PAN card and Aadhaar card?
Well, linking your PAN to your Aadhaar is being made mandatory by the government. While the PAN card is for filing tax returns and making any significant purchases, relating it to your biometric Aadhaar card will enable you to file IT returns in the upcoming years.
Linking your cards will provide an audit trail to the government. The IT department will be able to track unlawful transactions and stop revenue drainage.

Individuals with multiple PAN cards will now have to link all to their single Aadhaar card, which will enable the government to demand the correct tax from people who have resorted to unlawful practices to save taxes.

As Aadhaar cards are more widely known than PAN cards, this campaign will generate awareness about large transactions, and more people will enroll with the IT department through a PAN card.

As a citizen of this nation, you will no longer have to send receipts or perform e-signatures. The Aadhaar card is a biometric proof; hence, linking it solves all the excruciating procedures of the PAN card IT return.
Thus, the government and the individual taxpayers benefit from this mandatory regulation.
How to Link PAN and Aadhaar Card online?
Following the processes outlined below, anyone can link their PAN and Aadhaar online:
Step 1: Go to the Income Tax e-Filing website and choose 'Link Aadhaar' from the quick links section.
Step 2: Put your PAN and Aadhaar numbers in the boxes provided.
Step 3: Type the name that appears on your Aadhaar card.
Step 4: If your date of birth appears on your Aadhaar card, you must check the box.
Step 5: Click on the check box that says, "I consent to UIDAI validating my Aadhaar data.'
Step 6: Select 'Link Aadhaar' from the drop-down menu.
Step 7: Enter the OTP sent to your phone number and click 'Validate.'
Step 8: A pop-up notification will display, indicating that your Aadhaar and PAN have been successfully linked.
How to Link PAN and Aadhaar using SMS?
Follow these procedures to link your Aadhaar card to your PAN card by SMS:
Step 1: Write a message in the following format: UIDPAN <12 Digit Aadhaar number><10 Digit PAN number>
Step 2: After typing this, send the message from your registered mobile number to 567678 or 56161.
For e.g., If your Aadhaar number is 231068547895 and your PAN is XXXX0000Z, you must text UIDPAN 231068547895 XXXX0000Z to 567678 or 56161.