Aadhar Card Link with Mobile Number
Since its introduction, Aadhar card has become one of the most important documents of identification that an Indian can possess. Apart from being ID proof and address proof, citizens of India can use the Aadhar card to avail the benefits and subsidies of several schemes launched by the government. Be it DBT, the Maternity benefit program, Pradhan Mantri Ujjwala Yojana, or more, you need to have an Aadhar card to be a beneficiary.
More importantly, your mobile number must be linked to the Aadhar card. The Government has made it mandatory for all citizens to link Aadhar cards with mobile numbers.
How To Link Aadhar To Mobile Number
Previously, UIDAI provided instant online Aadhar-mobile number linking through Self Service Update Portal(SSUP). However, this has been recently discontinued. Individuals who haven't linked their mobile numbers to their Aadhar cards can link through other ways.
You can link your mobile number to your Aadhar in two ways - online & offline.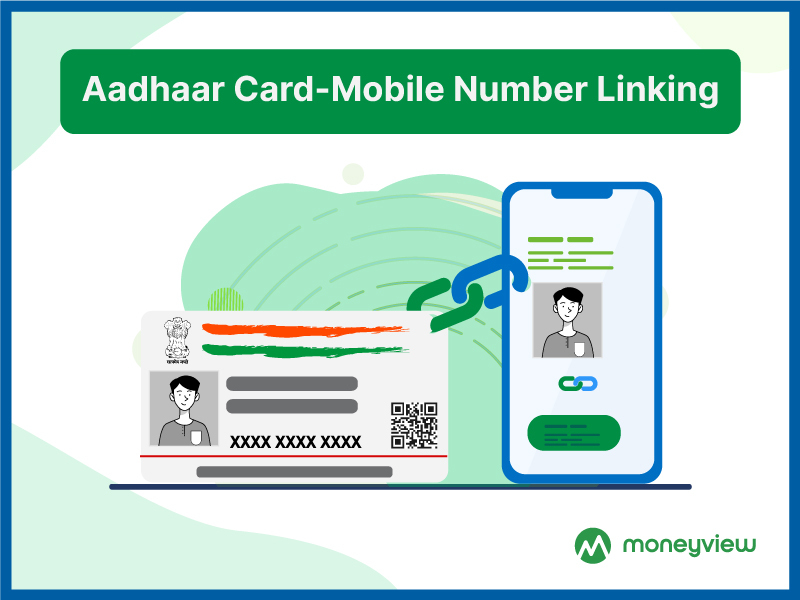 Aadhaar Card Link with Mobile Number - Online
Here's how to link mobile number to Aadhar card online:
Go to the Indian Postal Service website

Enter basic information such as your name, address, phone number, email address, and so on

From the drop-down menu, select 'PPB- Aadhaar Service'

Choose UIDAI-Mobile/Email to Aadhaar linking/updating

Click the 'Request OTP' button after filling out the required fields and making your selections

Enter the OTP you received on your phone on the next screen

Upon clicking 'Confirm Service Request', you will receive a Reference Number which you can use to track your request's progress

Once you submit your request, the request will be sent to the nearest post office

An officer assigned to the Aadhar update/linking job will perform the verification. The officer will come to your home and use a mobile biometric device to verify your identity (For iris, fingerprints, and photographs).

He or she will finish the update/linking process and charge you a small fee for the service
Aadhaar Card Link with Mobile Number - Offline
Follow the steps given below to link your Aadhaar card and mobile number by visiting the nearest Aadhaar Seva Kendra -
Step-1: Find out your nearest Aadhaar Seva Kendra
Step 2: Ask for the 'mobile number updation application' and fill in the required details there. You may be charged a nominal fee.
Step 3: You will have to make a payment for the service and you will be given a 'Unique Request Number'(URN).
Step 4: You can use that number to track your request.
While you will not need any additional documents to complete the above process, you must carry the original Aadhaar card as well as a soft copy of the same.
Benefits of Linking Aadhaar Card to Mobile Number
Here are some of the benefits of linking your Aadhaar card to your mobile number -
It helps to keep a track of the phone number and who is using it, in case of fraudulent activity.

You will frequently be required to submit your Aadhaar card as an identification proof, such as when buying mutual funds or filing your tax returns.

It lets you make use of all the online benefits and services of the Aadhar Card.

To use the mAadhar app, you will need your registered mobile number.

If you want to download e-Aadhar, you will need to type in the OTP that is sent to your registered mobile number.