Ration Card Aadhar Link
The Government of India has initiated a ration Card - Aadhaar link drive. This move aims to offer several benefits to the citizens and to prevent identity theft and fraudulence.
In this article, we will tell you how to link Aadhaar to your Ration card easily.
How to Link Aadhaar to Ration Card Online
If you want to link your Aadhar Number with your Ration Card without leaving your home, you have an option of doing it online.
However, you can use the online method only if your Aadhaar number is already linked to your mobile number.
Here are the steps you will need to follow for that:
Step-1: Visit your state's official PDS website, choose the category of your card, and enter your ration card number
Step-2: Then enter your Aadhar Card number and your registered mobile number
Step-3: Then click on the proceed button and wait for the OTP
Step-4: Once you get the OTP on your registered mobile number, enter it. Now, your request for linking Aadhaar number with your Ration Card has been registered
How to Link Aadhaar to Ration Card Offline
You can link your Aadhaar and Ration Card offline as well. Follow the steps given below:
Step-1: Visit your local Ration shop or the PDS office
Step-2: Carry the photocopies of your Ration card, Aadhar Card, and a passport size photograph of the head of your family. In case your bank account is not linked to your Aadhar Card, take a copy of the first page of your bank passbook with you.
Step-3: Submit all these documents to the official. You will have to give your biometric details like fingerprint, etc. at the office as well.
Step-4: After you submit these, an SMS will be sent to your registered mobile number. Then finally you will receive an SMS confirmation once the inking is completed.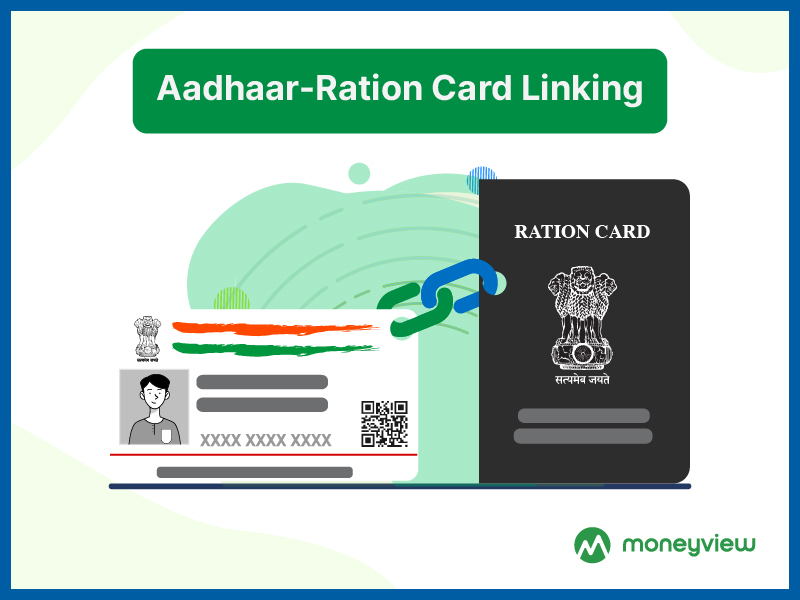 Documents Required for Linking Aadhar to Ration Card
You will require the following documents for Ration card - Aadhaar Link:
A photocopy of your ration card

Your original card for verification

Photocopies of aadhaar of all your family members

Passport-size photograph of your family's head

A copy of your bank passbook (required only if bank account is not yet linked with your aadhaar)
Benefits of Linking Ration Card to Aadhaar
The Ration Card is one of the oldest documents in our country. It has been used as identification and also for distribution of food grains, gasoline, and other necessary goods. There are various types of Ration Cards as well which helps the government to distribute essentials at subsidized rates to the people who need them the most.
Aadhaar Card, on the other hand, is a relatively newer document introduced by the government as a Unique identification number.
Here are some benefits of linking your Ration Card to your Aadhar number.
It can prevent fake Ration Card holders from taking advantage of the subsidized rates.

After Aadhaar is linked to a ration card, one will not be able to possess multiple ration cards with fake details.

It will help prevent fraudulent activities.

As the distribution system is enabled with biometric technology, PDS offices will be able to identify beneficiaries that are genuine. This identification process will also help them to segregate the benefits accordingly.

This initiative can even control the diversion and leakage of PDS ration.

It can even remove corrupt middlemen as Aadhaar creates an audit trail in the PDS.