Difference Between Cash Credit and Overdraft Facility
Overdraft is generally offered to individuals to meet their urgent financial needs. This facility is not meant to be used to meet the cash flow requirements of a business. Cash Credit on the other hand is a facility that is designed keeping in mind the needs of small and medium business owners. It helps them to get fast cash and run their business without any difficulty. An overdraft facility can be availed with the help of existing bank accounts, but a new cash credit account has to be opened to avail funds under this facility. An overdraft can be availed on both personal and business bank accounts but to avail cash credit facility a dedicated account has to be opened by the customer.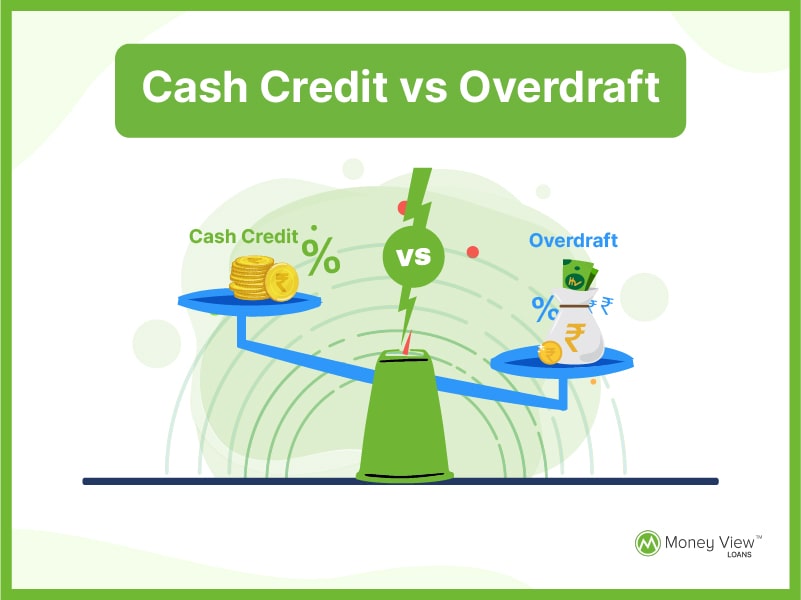 What is Overdraft?
Overdraft is a facility provided by banks that allows an individual to draw out more money than they have in their bank account. For example - say you have Rs 500 in your bank account and your bill comes up to Rs 1000. In this case, if you have an overdraft facility, you will be able to pay off the entire amount. It is a short-term credit facility and is renewed every year. Overdraft is also known as a 'revolving credit facility.
Types of Overdraft Facilities
There are two types of overdraft facilities - secured and unsecured. To get a secured one, you have to pledge an asset as security to the bank. It could be property, deposits, or shares. If you fail to repay your debt amount, the bank will have the power to take over the asset you pledged as security and sell it. If the amount after selling your asset is less than the amount you withdrew, you will have to pay the difference.
An unsecured one, on the other hand, is different. Here, you do not have to pledge any asset as security. In India, a person's credit limit is highly dependent on his income. If his monthly salary is Rs 40,000 or more, he can avail of an unsecured overdraft limit which will be three times his monthly earning. If his income falls between Rs 30,000 and Rs 40,000 per month, then the limit he will get will be two times his monthly income.
Features and Benefits of Overdraft
An overdraft has its own features and an approved limit of credit is one among them. Another feature is that there is no fixed repayment period as such and can be paid anytime, as long as it is within the limit. This amount has to be repaid if the bank asks for it. There is also no minimum amount that has to be paid every month if the debt is within the limit. In case your debt surpasses the limit, you will have to pay the amount immediately, or else the bank will stop providing you this benefit of withdrawing extra money. If this happens, the effect will be seen in your credit report as well.
Also, if you are a joint applicant of an overdraft facility, both you and the other applicant will be responsible for the debt and the bank can choose to recover the amount from you even if the other account holder withdraws the excess amount.
What is Cash Credit?
Cash credit is a type of business loan that can help business owners in getting access to credit fast. It is a short-term loan that can help business owners in meeting the working capital needs of their business. Generally, cash credit is a facility that is offered to business owners and not to individuals. The interest rates are relatively high, and the repayment tenures are short with cash credit. Interest to be paid is calculated based on the amount of money that is withdrawn through this facility by the business owner. The interest rates differ from one lender to the other and the rate offered is usually higher than that offered with an overdraft facility.
Money View Overdraft and Cash Credit Facility
Money View does not offer either an overdraft or cash credit facility. We offer personal loans up to 5 lakhs at attractive interest rates and flexible tenures. Customers can also opt for a Money View personal loan to meet the various financial needs of their business.