Check Your EPF Balance Online
A provident fund is a type of financial security that serves as a reliable and controlled investment option for employees' post-retirement needs.
Periodically throughout their work, people make PF contributions that can be withdrawn at job termination or significant life events like marriage and serious illness.
Before we get into the ways to check your EPF balance using SMS, let us look at EPFs in detail.
Why Should You Invest In EPF?
As it combines payments from both you and your employer, investing in Employees Provident Fund (EPF), often known as PF, enables you to maximise the years you are employed while simultaneously saving for retirement.
You must be aware of your PF account's balance to effectively plan for retirement. Knowing the amount can help you determine whether or not you need to make more investments and how well your funds are matched to your objectives.
Application Eligibility for EPF
Employees in both the public and private sectors are eligible for the Employee Provident Fund, therefore any employee can apply to join EPF India. A company is also considered responsible for providing EPF benefits to its employees if it employs at least 20 people.
When an employee joins the programme actively, they are deemed qualified to receive a number of advantages, including pension benefits, insurance benefits, and Employees Provident Fund benefits.
UAN
Every member of the EPF has online access to their PF accounts and can perform actions like making a withdrawal or monitoring their EPF balance. The EPFO member portal is easier to use using the Universal Account Number (UAN).
A worker's UAN is unaffected even if they switch employers. As soon as a person changes jobs, their member ID also does, and the new ID is connected to their UAN. To utilise the services online, however, employees must activate their UAN.
How to Use SMS to Check EPF Balance
Important Information: It is crucial to link your UAN number with your KYC information, such as your Aadhaar or PAN, or bank account information. You won't be able to use SMS to check your EPF balance till after that.
Once your KYC information has been merged with your UAN number, proceed as follows:
Send an SMS to the mobile number 7738299899 in step one.

The message must be sent as EPFOHO UAN.
While english is the default language, you can select another language if you want to. Utilising the first three letters of your chosen language such as 'EPFOHO UAN HIN' for Hindi if you want to receive updates in Hindi.
English, Hindi, Punjabi, Gujarati, Marathi, Kannada, Telugu, Tamil, Malayalam, and Bengali are all supported languages for this service.
How to Check EPF Balance via Missed Call
Using your registered mobile number, you can make a missed call to find out your EPF balance.
This service is only accessible if your UAN and KYC information have been integrated. If you are unable to accomplish this, you can ask your employer for assistance.
Follow the instructions below once your KYC information has been merged with the UAN:
From your registered cellphone number, place a missed call to 9966044425.

You will receive an SMS containing your PF information after making a missed call.
4 Easy Ways to Check your EPF Balance
Checking your EPF balance has become super easy with more than 1 way to do it. The various ways in which you can check your EPF balance are:
Through the EFPO Portal
Through UMANG App
Through SMS
Through Missed Call Facility
Check Your EPF Balance Through the EFPO Portal
The Employees' Provident Fund Organisation portal is a one-stop solution for all your EPF transactions, be it learning which forms to fill, submitting a claim, or checking the status of the claim.
Checking your EPF balance can also be easily done on the EPFO portal.
The steps involved in checking your EPF balance are as follows.
Step 1: On the home page of the portal, click on the For Employees Tab from the Services Drop Down.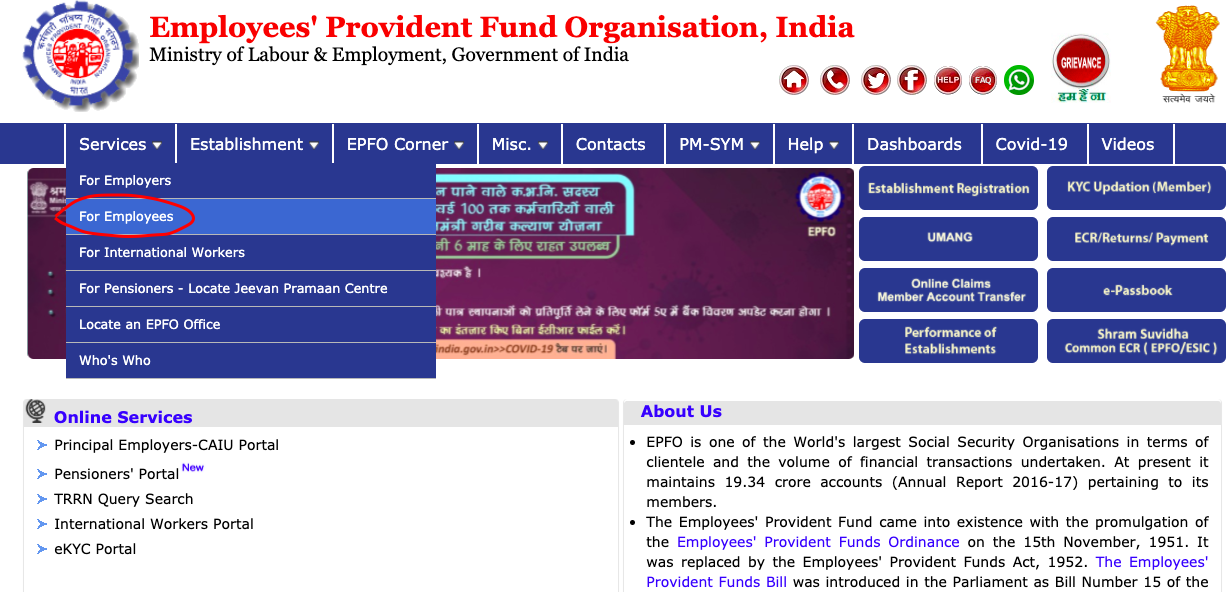 Step 2: Click on Member PassBook under Services. You would come on to the page wherein you would need to fill in your UAN and other details. Please note that you will have to activate your UAN before trying to check your EPF account balance. Learn more about how to activate your UAN.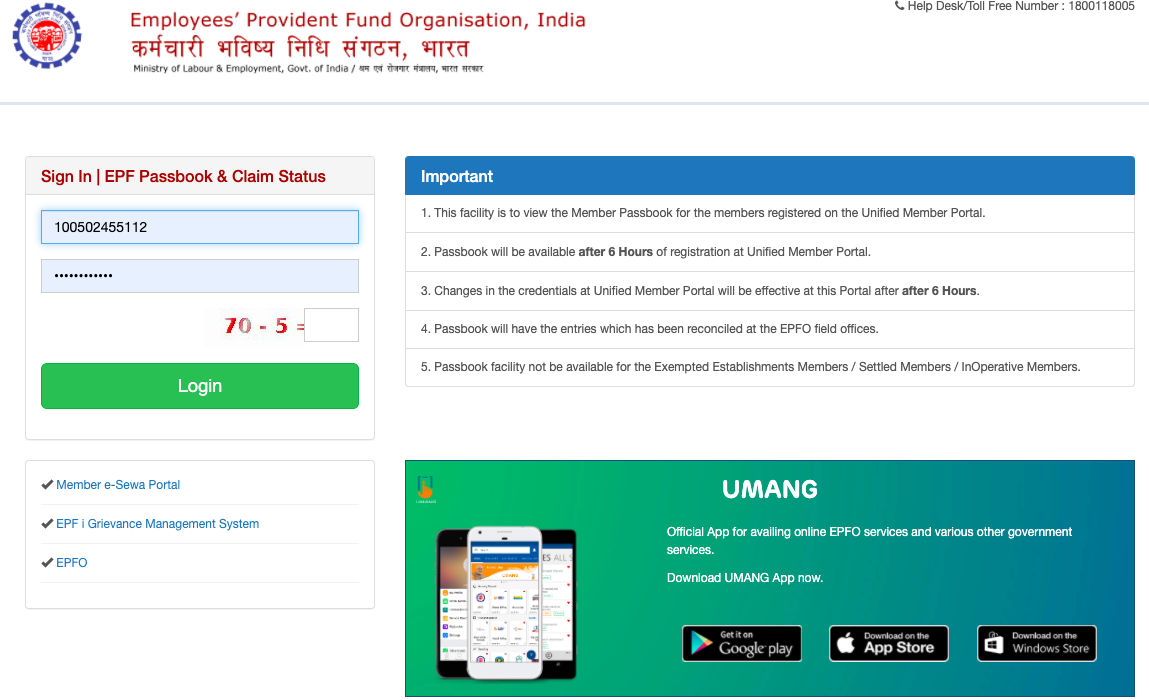 Step 3: Provide your UAN and the password to further check your EPF account balance.
Check Your EPF Balance Through UMANG App
Umang or Unified Mobile Application for New-Age Governance is a govt app that is an evolving platform designed for citizens of India to offer them access to the pan-India e-Gov services from the Central, State, Local Bodies, and Agencies of government on app, web, SMS, and IVR channels.
Just with an onetime registration, you can view your PF balance, view claim status, or do many other transactions on the app
The number to which you send the SMS is 7738299899.
Benefits Of EPF
The following is a list of advantages an EPF employee member may receive -
Capital Appreciation
The EPF India deposit is eligible for a pre-fixed interest rate under the PF online plan. Further ensuring growth in the employees' money and accelerating capital appreciation are rewards extended at maturity.
Corpus for Retirement
The Employee Pension Scheme receives about 8.5% of an employer's contribution. The money contributed to the employee provident fund over time aids in creating a strong retirement fund. After retirement, having such a corpus would provide individuals a feeling of freedom and financial security.
Emergency Corpus
Life is full of uncertainty. The best thing a person can do to deal with emergencies is to be financially prepared to handle such unforeseen circumstances. An EPF fund serves as an emergency reserve when a person needs money right away.
Tax savings
Employee contributions to their PF account are regarded as being exempt from taxation under Section 80C of the Indian Income Tax Act. Additionally, EPF plan earnings are not subject to taxation. Up to a maximum of Rs. 1.5 lakh, this exemption is available.
The Employees Provident Fund scheme's tax advantages ensure that members will receive larger earnings. Long-term savings and a person's purchasing power are both enhanced by it.
Premature Withdrawal Is Simple
Members of EPF India are eligible to receive partial withdrawal benefits. People can withdraw money from their PF accounts to suit their individual needs, such as paying for higher education, building a home, paying for a wedding, or receiving medical care.
However, there is a lock-in period, before which any fraction of EPF cannot be withdrawn.